Globe garden centre, not only is a well stocked pet and garden store, but often described as an Aladdin's cave. We stock many items which are desirable and unusual
---
Christmas, Valentines and Easter decorations
Finest selection of Xmas trees, wreaths and table decorations

Finest selection of decoration for Xmas tree and home

Selection of Greeting cards


A Brief History of Holiday Tree Traditions
Many folk legends have grown around the Christmas tree. Christ's blessing and gift to mankind in the form of a decorated tree remains the central theme of most. Across Europe, people used tree-based folk tales to teach children about the celebration of Christ's birth. The evergreen tree's symbolism of eternal life was strong.
Martin Luther may have begun the Christmas tree tradition in Germany around 1500 AD. It was said that he was walking on a bright snow-covered, star-lit night pondering the birth of Christ. He was enthralled by the evergreen trees, the stars and the landscape. He took a tree inside and put candles on it to try and represent the majesty he felt about Christ's birth.
By the early 1600's many German towns were celebrating Christmas with elaborately decorated trees. Decorations first used were paper flowers, fruits, nuts, gold foil, cakes, small gifts, and candies. German mercenaries used by the British in the Revolutionary War were responsible for bringing the Christmas tree tradition to the United States. Old Puritan doctrine banned a celebration at Christmas. Holiday festivities around a decorated tree took a while to become established in America.
In the 1840's the use of Christmas trees across the Christian world exploded. From the royal family in England to the elite of America, Christmas trees were fashionable. This tradition became ever more popular.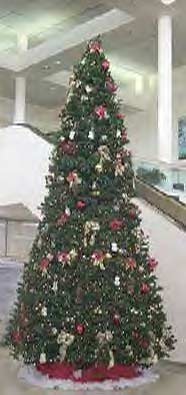 SELECTING YOUR TREE
Keep these points in mind when choosing a specific tree:
· Check the height of the ceiling in the room where you will display your tree. Select a tree that is at least one foot shorter than the ceiling height.
· Run your fingers over the branch along the needles. Needles should be pliable and adhere to the branches. They should bend, but not break or fall off.
· Shake or bounce the tree to be sure that the needles are firmly attached. If the tree is fresh, few needles should fall off. Some loss of needles inside the tree is common.
· Avoid trees that have a wilted look.
· Make sure the handle of the tree is straight. The handle must be six to eight inches long to allow placement in the tree stand.
· Check for insects and dead needles inside the tree crown. Have dead needles shaken or blown out when you buy the tree.